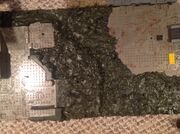 Battlescape II



MSR Price

$44.99

Pieces

98

Figures

UNSC Spartan II
1 Tan Marine/Flood Combat Form
Elite Minor

Weapons

Vehicles

Item Number

96983

Release Year

2012
Manufacturer Information
• Forest Land devastated by the war to build environments inspired by the Halo Universe memorable!
•In a mysterious Forerunner outpost, Flood containment has been breached! When a UNSC Marine becomes infected by the parsite, a UNSC Spartan II and a Elite minor join forces to eliminate the deadly parasite before it consumes everything in its path!
Ad blocker interference detected!
Wikia is a free-to-use site that makes money from advertising. We have a modified experience for viewers using ad blockers

Wikia is not accessible if you've made further modifications. Remove the custom ad blocker rule(s) and the page will load as expected.