---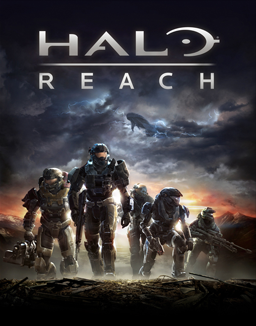 ---
Halo Reach takes place before Halo: Combat Evolved and follows the story of Noble Team as the fight to stop the Covenant from destroying Reach.
Announced at E3 2009, Halo: Reach is a prequel to the main trilogy; it is Bungie's last Halo game, and was released September 14, 2010. Players control Noble 6, one of the members of the Spartan squad "Noble Team" as they defend Reach against the Covenant. The ending of the game directly leads into the events of Combat Evolved.
Storyline
The are invading Covenant invade planet Reach, the Military Capital of the UNSC. You play as SPARTAN-B312, a SPARTAN-III Commando and Noble team's new Noble 6, as you and the rest of Noble team battle to save Reach from an enormous Covenant Invasion force hell bent on the destruction of the planet.
Trivia
Halo: Reach has three DLC's so far, one made by Bungie and the other two made by Certain Affinity, called the Noble, Defiant and the Anniversary map packs. The Defiant map pack is also the first map pack to include a Firefight map.
The game is the first to have every Halo lobby, which includes the following: Campaign, Matchmaking, Firefight, Custom Games, and Theater modes.
This is the last Halo game made by Bungie..
There are four new gametypes, which are Invasion, Headhunter, Stockpile, and Insane (Halo Chess, for example).
The gametype called Race from Halo: Combat Evovled returns to this game. Since VIP, the only gametype to not be in Reach, does not return from Halo 3, Rocket Race is now a Race gametype.
The sets UNSC Falcon with Landing Pad, Rockethog Vs Anti-Aircraft and Spade VS Skirmisher are all based on this game.
The engine in this game is actually a heavily modified Halo 3 engine.
---
END OF ARTICLE
---
Ad blocker interference detected!
Wikia is a free-to-use site that makes money from advertising. We have a modified experience for viewers using ad blockers

Wikia is not accessible if you've made further modifications. Remove the custom ad blocker rule(s) and the page will load as expected.