M41 Surface-to-Surface Rocket Medium Anti-Vehicle/Assault Weapon



Users

Mark IV Spartans
Marines
ODST's

Sets

Battle Unit 2
Hero Pack Series 1
Heavy Specialist Drop Pod
Orbital Banshee Blitz
Silver Combat Unit
The M41 Surface to Surface to Rocket Medium Anti-Vehicle/Assault Weapon, more commonly known as the Rocket Launcher, is the main anti-vehicle weapon of the UNSC, though it is also capable of destroying armoured Infantry with ease. It fires M19 High-Explosive Anti-Tank rockets, which are loaded with a special type of explosive called a shaped charge; the explosives inside of the rocket are specially shaped so that when the rocket explodes, the explosion is concentrated into a cone shape. This makes the rockets able to tear apart even the toughest vehicle armor like tissue paper.
Version 1

Version 2

In Game Use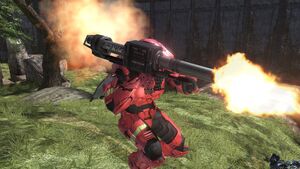 ---
END OF ARTICLE
---