M90A Close Assault Weapon System



Users

Mark IV Spartans
ODST's
Human Combat Forms
Marines

Sets

UNSC Turret
Pelican Dropship
Close Quarters ODST
Floodgate
Offworld Cyclops
The Shotgun is a devastating close quarters weapon. Like all shotguns, it is designed to fire multiple spherical projectiles called pellets. This that it is able to obliterate foes at close range, but this also makes it virtually useless at longer ranges. It is a pump action weapon (meaning that it must be pumped after each shot in order to load another shell into the chamber), and is fed by dual tubular non-detachable magazines, similar to the real-world KSG-12. The Shotgun was one of the the first weapons released in the Halo Wars line, along with the SMG. It appears to be the M90A Shotgun from Halo 3. And there is a new moulded shotgun , which is smaller.
There is a new version, which is based off of the Halo Reach Shotgun.
Version 1
Version 2

In Game Use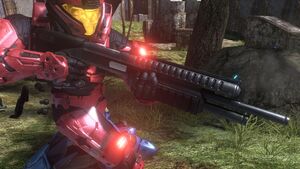 ---
Ad blocker interference detected!
Wikia is a free-to-use site that makes money from advertising. We have a modified experience for viewers using ad blockers

Wikia is not accessible if you've made further modifications. Remove the custom ad blocker rule(s) and the page will load as expected.