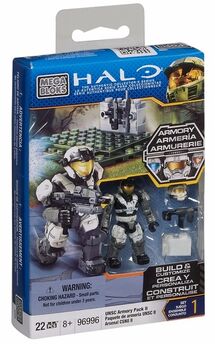 UNSC armory pack II

Release year

2012

Pieces

22

Figures

Air Assault Spartan, Hazop Spartan (Armory Pieces)

Weapons

Smg
Assault rifle
Possibly the halo 4 granade launcher

Msr price

$4.99
The UNSC armory pack II will be released on summer 2012 it will include 22 pieces and Hazop Spartan armor for the armory and 3 weapons.
Ad blocker interference detected!
Wikia is a free-to-use site that makes money from advertising. We have a modified experience for viewers using ad blockers

Wikia is not accessible if you've made further modifications. Remove the custom ad blocker rule(s) and the page will load as expected.