Versus: Covenant Locust Attack



MSR Price

Unknown

Pieces

284 pcs

Figures

1 blue EVA Spartan II
1 blue CQB Spartan II
1 red Elite

Weapons

1 Brute Shot
1 Rocket Launcher
1 Energy Sword
1 red Flag

Vehicles

Item Number

96965

Release Year

August 2011
Versus: Covenant Locust Attack
is an exclusive set to Target that was released in August 2011. It contains two Spartans(EVA and CQB), a Mongoose, a redesigned Locust and a Combat Elite.
Trivia
This set is odd as it is based off of the multiplayer of Halo 3, but contains a Locust, which only appears in Halo Wars.
The cockpit and leg designs are different from the previous set. The cannons are redisigned as well.
Gallery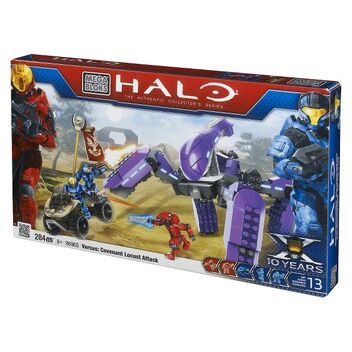 ---
Ad blocker interference detected!
Wikia is a free-to-use site that makes money from advertising. We have a modified experience for viewers using ad blockers

Wikia is not accessible if you've made further modifications. Remove the custom ad blocker rule(s) and the page will load as expected.