M9 Main Anti-Air Tank



MSR Price

$36.99

Pieces

294

Mini-Figures

1 green Marine
1 purple Hunter

Weapons

1 Assault Rifle
1 Assault Cannon

Vehicles

Wolverine

Item Number

96833

Release Year

2010
The Wolverine was originally a anti-air vehicle until some divisions started to use it as a anti-tank weapon. Now it is feared by Covenant vehicles. Like with all UNSC vehicles its normal color is green camouflage but some UNSC forces tend to use arctic camouflage. The wolverine has now been released in a greyish blue colour for the toys r us exclusive covert ops line
From Manufacturer
The UNSC Wolverine makes the sound of incoming Covenant Banshees quickly fade as it shreds its way onto the battlefield. This dual-threaded anti-aircraft beast is the epitome of long-range heavy artillery, equipped with twin Argent V missile pods that really fire! The Wolverine is also equipped with dual XM511 Heavy Grenade Launchers for ground defense and scattering Covenant Brutes. The surprisingly maneuverable Wolverine keeps Covenant air support to a minimum while the rest of the UNSC deals with ground threats.
Features
Dual Argent V missile pods with x8 missiles that really fire!
Dual XM511 heavy grenade launchers
4 real-working wheels with detailed treads
Includes 1 UNSC Green Marine and 1 Covenant Hunter mini-figs
Photos
Review Video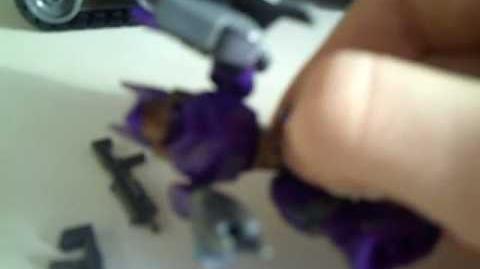 ---
Ad blocker interference detected!
Wikia is a free-to-use site that makes money from advertising. We have a modified experience for viewers using ad blockers

Wikia is not accessible if you've made further modifications. Remove the custom ad blocker rule(s) and the page will load as expected.